about
A Fort Wayne area native, Dr. Blume has been an optometrist for 40 years. He received his Doctor of Optometry degree from the Indiana University School of Optometry in 1974. He then practiced in Findlay and McComb, OH and at the Eye Institute of Northwest Ohio in Toledo. In 1992 Dr. Blume and his family returned to Fort Wayne. They currently reside on the Hoosier Homestead that has been in the family since 1875.
As a family optometrist Dr. Blume works with patients of all ages. In addition to working with glasses and contact lenses for all prescriptions, Dr. Blume is able to treat "red" eye conditions, allergic eye conditions, relieve the discomfort of a corneal abrasion and aid in its healing, and remove a foreign object that has become "stuck" on the surface of the eye. He is also skilled in providing pre and post operative care for cataract and LASIK surgery patients. Dr. Blume is able to work with the medical conditions of glaucoma, diabetes, and macular degeneration.
Dr. Blume's office and exam rooms are walker and wheelchair accessible. A complete eye exam can be performed while staying in your wheelchair or motorized scooter.
Dr. Blume is a participating provider with many major vision insurance plans such as: Vision Service Plan (VSP), EyeMed, Davis Vision, Vision Benefits of America (VBA), and My Comp Benefits as well as with other plans. Dr Blume also works with the medical insurance plans Anthem, United, Aetna, Cigna, Medicare, and Medicare Advantage.
what's new
THE IRLEN METHOD
Dr. Blume uses the Irlen Method, which identifies people who may have light sensitivity and/or visual processing problems. These problems may manifest as reading, learning, and/or attention difficulties. The Irlen Method has helped to alleviate headaches, migraines, nausea, dizziness and fatigue that result from light sensitivity, glare, reading computer screens, or fluorescent lights. This method uses colored overlays and Irlen spectral filters worn as glasses to help eliminate the physical symptoms.
DRIVEWEAR Lenses
Today's best driving lens is Drivewear. Theses lenses protect one from glare because they are polarized, and adjust to changing light conditions because they are also photochromic. The only plastic lenses that will adjust behind the windshield. Rain or shine, in the car or outside, the sunlens that enhances the visual comfort of the driver and provides maximum eye protection and comfort in the bright light outdoors.
These lenses are wonderful for those who spend long days behind the wheel or for those glasses wearers who don't want to have to switch from their regular glasses to their sunglasses and back again each time they get out of their vehicle. Visit Dr. Blume to get fitted for your pair of Drivewear lens.
AIR OPTIX COLORS contact lenses
Air Optix Colors are available in a range of 9 terrific colors that range from subtle to vibrant. Visiting the AIR OPTIX COLORS color studio at airoptixcolors.com allows you to upload a photo of yourself and virtually try on different color contact lenses to see how they complement your appearance. You can even share the results with your friends. You can also experience the lenses "live" in our office with a free trial pair of AIR OPTIX COLORS. Schudule an appointment today and learn more about AIR OPTIX contact lense.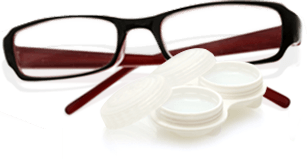 glasses & contacts
If you are looking for just the right frame, Dr. Blume's office has over 300 styles on display. He continually changes the selection to show current styles and colors. It is also possible to special order frames.
Dr. Blume works with the local optical lab, Walman Optical, which is located nearby on Executive Blvd, across the street from Food Marketing. This close proximity gives the office efficient and personal service from the lab.
Antireflective (AR) Lens Treatment
Dr. Blume offers AR treated lenses. AR treated lenses nearly eliminate reflection, thereby transmitting over 99% of incident light. This benefits you the wearer by allowing more light to enter your eyes. Also, AR lenses diminish the ghost images and halos around lights that can cause night driving difficulties. Another plus is that others will be able to see your eyes more clearly when you wear them, without the distracting reflections of non-AR lenses.
AR lenses consist of multiple layers of ultra thin films. Any oil, debris, or moisture on the lens surface will cause the coating to be defective by not adhere properly to the lens. Each layer of the coating is cured after each step of the deposition. Called thermal curing, it is a process that toughens or hardens a material and is achieved with heat. When done properly, the premium AR treatments are durable, ward off oils, fingerprints, and liquids, repel particles from adhering to the lenses, and are easy to clean and maintain.
eye health
Examining the interior of the eye is an important part of the evaluation of a patient with High Blood Pressure, HBP. When changes are seen in the retinal arteries from HBP, the same changes are occuring in the arteries that supply the kidneys. The earliest recognizable change is a generalized attenuation or narrowing of the retinal arteries. In more severe cases there are irregularities in the size of the arteries. When blood flow is so impaired, nutritional damage to the vessel wall occurs which results in hemorrhages, exudates, and edema. Visual acuity, though, is  not affected initially so you are not aware of the damage being done to the eyes until your regular eye exam.
Contact Lens Solutions and Cases
Always use fresh lens care products; never re-use old solution, never use saline solution and rewetting drops to "disinfect " your contact lenses. do not use saliva or anything other than the recommended solutions for lubricating or wetting your lenses.  After removing your lenses from the storage case, empty it of all solution, rinse, and allow the case to air dry with both the case and caps face down. Bacteria can grow in contact lens cases, so it is important to properly use, clean and replace your case once a month.
location
5917 Stoney Creek Drive
Fort Wayne, IN 46825
Stoney Creek Professional
Village, first traffic signal west of
Coldwater Road
directions
hours
Monday to Friday
Saturday
Sunday: Day of rest